Ms. Lakshmi (Dip. Mont, MA, BA)
My educational background
Diploma in Montessori: Navadisha Montessori, Chennai (AMI, Netherlands)
MA (Eng. Lit.): PSGR Krishnammal College for Women, Bharathiar University, Coimbatore
BA (Eng. Lit.): PSG College of Arts & Science, Coimbatore
How/why I became a Montessori teacher?
Teaching was not my first career option until I dawned upon Maria Montessori's philosophy. Right after my post graduation while I was fighting my ways to become a journalist, fortunately I was offered a job as a Montessori teacher. Little did I know that montessori had an entirely different viewpoint on education, especially early childhood learning. Led by my curiosity, I chose to take up the AMI course. I would say that the course was a life-changing experience. And as I began working with children, my curiosity transformed into my passion.
What is my teaching approach?
In my view, each child is different and so should the approach be. I believe that a montessori environment gives me the liberty to provide this individual attention to each child. Learning should be and can be made natural when we direct the child by observing the child's learning pace and by teaching the right concept at the right time.

I believe in the adage "Teach by teaching, not correcting". Not correcting does not mean ignoring the mistakes, but correcting in a constructive manner. I believe reprimanding is not the way of teaching. Nobody learns the correct-way, right from the beginning. If we try finding fault with the very first steps of learning (be it crawling, walking, talking, writing or reading) we are taking away the confidence the child has just begun to build.

Instead, keeping a note about the areas of improvement and then showing the child how to do it again is much more effective. Going from "this is not how you do it" to "this is how you do it" makes a lot of difference in a young child's mind. A child needs constant encouragement and not resentment to reach the required goals.
Why do I recommend a Montessori pre-schooling?
For many, Montessori is a difficult choice to make due to its sheer uniqueness. It is a methodology less perceived and received. Though it does not fall under the usual or the traditional education patterns, it is par excellence when it comes to the needs of a child. Montessori is more than just learning the ABC's and 123's. The three key reasons why I recommend Montessori education for every child are:

1. The mixed-age-group and the 3-year span. Children learn from each other. Older ones act as role models for the younger ones. They learn to be compassionate and lead the young ones while the young ones feel supported and gain confidence. Working in a group they learn to sort their differences and meet their goals.

2. Beginning at an early age, children develop order, coordination, concentration, and independence. The classroom design, the materials, and the daily routines are conducive to learning.

3. Each child is valued. Montessori education accommodates all learning styles. Children learn at their own pace, each advancing through the curriculum as he is ready, guided by the teacher and an individualized learning plan.
The best thing that you could offer your child is to help him help himself. "Never help a child with a task which he thinks he can succeed in". It's easier said than done. As a teacher, at times, I find myself anxious and end up with an uncalled-for help. So I can imagine as a parent how difficult it is to resist the urge to help your loving child. But then if you want your child to be able and independent, the only way to do is consciously step back and let your child try. Give him a chance to explore his abilities. However young or old your child is and however big or small the task is: respect the child for his work
The Kite Runner by Khaled Hosseini. Many books come and go in your life and a few choose to stay. For me, The Kite Runner is one such book. It is a story of a father and son set against the morbidity of terror-struck Afghanistan. Even after a decade or more, of having read the book, the story is quite a memory.
---
Ms. Priya (Dip. Mont, MA, BE)
My educational background
Diploma in Montessori: Florida Montessori Center, Bangalore
Master of Engineering (Communication Systems): Kumaraguru College of Technology, Tamil Nadu
Bachelor of Engineering (Electronics and Communication): CSI Institute of Technology, Tamil Nadu
How/why I became a Montessori teacher?
Since my childhood, the world of performing arts fascinated me. Be it a play or a song, I would do it with such passion and it filled me with immense joy. I relate teaching to art. It is the art to perform in a way, true to your heart, which makes an impact in a child's life. From the time, the teacher steps into the classroom, the students look to him/her to set the tone and learn new things.

But as life unfolded, circumstances led me to choose a career in the IT field. But deep inside, I felt a void, a lack of purpose. All of God's intricate planning and designs led me to take up a training in Montessori methodology. And I found my purpose and here I am!
What is my teaching approach?
I have devised a teaching approach based on my own observations. I call it O.S.D.E.M:

Observe: Firstly, all the child needs is to be observed without any bias or preconceived notions. These observations are made to understand his/her rhythm, proclivity towards any particular area and so on and so forth.

Step-in: With the acquired knowledge through observations, it is time to step in and work with the child. Presentations with material are made as per the Montessori methodology.

Develop: Develop a good rapport with the child using your observation and presentation skills.

Excitement: Be excited about what you teach and present to the child. Excitement is contagious. Elevate the subject matter in a way that a transfer of excitement from teacher to child takes place.

Motivate: Motivate the child positively to work towards the required goal.
Why do I recommend a Montessori pre-schooling?
Montessori method aids learning through all five senses, not just through listening, watching, or reading. It is a child-centered methodology where children learn at their own, individual pace and according to their own choice of activities. Montessori represents an entirely different approach. It encourages creativity and fosters a sense of community.
Every child is unique. Yes, we have probably heard it a thousand times, but still we as parents tend to compare our child's accomplishment with other children. We justify it by saying that comparison helps us to ascertain the performance and progress of our child. But I believe we do it to assuage our deepest fear of our child missing out on opportunities in life. And to get a confirmation that that our child's development is "normal".

Doesn't the term normal contradict unique! Wouldn't it be great to block out the voices screaming normal and focus on nurturing and guiding the child towards finding his aptitude and henceforth finding his purpose in life.

Great inventions and ground breaking discoveries were made by people who did not think normal but thought out-of-the-box and who persevered to achieve their goals.

My earnest advice to parents is not to be a part of the rat-race. Rather, try to understand the rhythms of your child and guide him/her at his/her own pace. Foster a can-do attitude by helping your child learn to set goals and meet them, one small step at a time. And who else can do that, other than you?
Finding your Element by Ken Robinson. I find this book incredibly useful as it gives you many practical tips which can help you to discover your abilities and unlock your true potential.
---
Ms. Resmi (Dip. Mont., B.Tech)
My educational background
Diploma in Montessori: Indian Montessori Training Centre, Bangalore
Bachelor of Technology (Computer Science Engineering): University College of Engineering, Thodupuzha, Kerala
How/why I became a Montessori teacher?
I quit my software engineering career after eight years and wanted to do something that can give me more fulfilment. I always felt that building the correct foundation in early years of child's life is critical for his later growth in academics. So, I choose to be an early childhood teacher.
What is my teaching approach?
I believe that it is the quality that matters more than the quantity of knowledge in a child. I feel that a child should understand and master a skill perfectly before moving on to the subsequent stage as it sets a very strong foundation.
Why do I recommend a Montessori pre-schooling?
I believe that the Montessori method encourages striving for excellence and helps to build this attitude early in children. Another major advantage of the method is the conceptual base it provides in maths and science with the help of materials. This lays a solid foundation for later study of mathematics and science.
Please be punctual and regular to the school. This helps a child build a strong work-ethic and also helps adapt to more formal environment in primary years. I believe "Work while you work and Play while you play" helps in focussed development.
Novels of Benyamin. They give realistic view about my culture.
Books and Speeches by Yuval Noah Harari. A rational view on humans past and concerns of future.
---
Ms. Aswini (Dip. Mont., MBA, M.Com, B.Com)
My educational background
Diploma in Montessori: Indian Montessori Training Centre, Bangalore
MBA, M.Com: Bharathiar Universty, Coimbatore
How/why I became a Montessori teacher?
I became a Montessori teacher because teaching gives me immense pleasure and satisfaction. I look at it as a valuable opportunity to stand as a reason behind the success and holistic development of a child.
What is my teaching approach?
My teaching approach is to understand the need of every child and to guide him only to an extent required thereby enabling him to become independent and self confident
Why do I recommend a Montessori pre-schooling?
At this budding stage, Montessori pre-schooling provides a comprehensive set of abilities to a child that are needed for him to become an independent and confident person.
A child draws his first inspiration and lesson only from his parents and, therefore, we request you to be a good role model for your child.
A walk to remember by Nicholas Sparks, as it depicts the important aspects of life that is love, kindness, and mercy in a heart touching manner.
---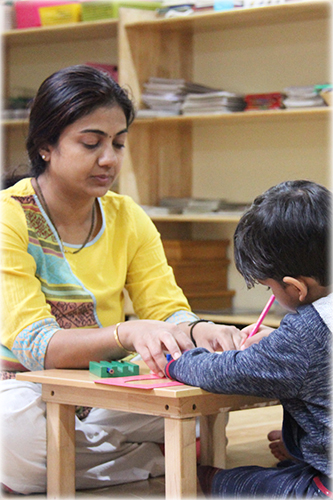 Ms. Karuna (Dip. Mont., MBA, BBA)
My educational background
Diploma in Montessori: Indian Montessori Training Centre, Bangalore
MBA (Finance), BBA: Karnataka College, Dharwad
How/why I became a Montessori teacher?
I became a Montessori teacher because I love being with children and the love, laughter, mischief, creativity and imagination of children are like an eternal fountain of joy and vitality for me.
What is my teaching approach?
A child-centered educational approach based on scientific observation of children, which is in-line with the Montessori philosophy.
Why do I recommend a Montessori pre-schooling?
Firstly, Montessori method for young children provides for a holistic development of a child as it is structured around four main areas viz. Practical life, Sensorial development, Language and early preparation of Mathematical mind. Secondly, being a child-led method, it allows for children to learn at their own pace without any negative comparison or prejudice. And finally, Montessori method uses tangible materials to teach young children the abstract concepts. This leads to better understanding of concepts and is also useful during their later lives.
Children learn by observing adults. So, if adults inculcate all the good behaviors and habits, it is highly likely that children would learn the same.
Who will cry when you die? by Robin Sharma, as it tells about how to lead a purposeful life.
---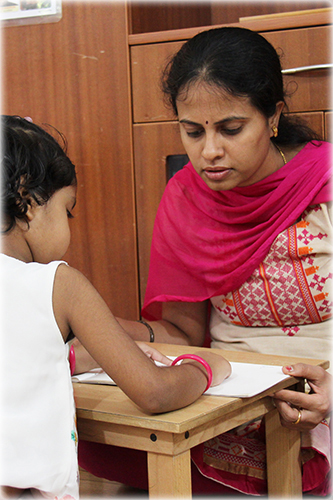 Ms. Veena (Dip. Mont., B.Com)
My educational background
Diploma in Montessori: Indian Montessori Training Centre, Bangalore
Bachelor of Commerce: MES college, Bangalore
How/why I became a Montessori teacher?
I became a Montessori teacher because I am passionate about educating children. I love spending time with children and guiding them in their growth and development.
What is my teaching approach?
I work as a guide and a facilitator to my students based on Maria Montessori's child-centered approach. I give the child the freedom to choose and repeat the activities so that it helps him/her to become self- confident and independent.
Why do I recommend a Montessori pre-schooling?
The Montessori classroom is a specially prepared environment where children are free to choose from a range of activities appropriate for their development. This environment is conducive for the children to learn self-discipline and refine important skills such as concentration and self-control. The mixed-age classroom helps the older children enjoy stature as mentors and role models, thereby developing leadership skills; while younger children feel supported and gain confidence about the challenges ahead.
1. Be a role model yourself, as children observe and learn from adults.
2. Spend quality time with your child by reading a book together, have food together (as meal-time is a great time for conversations), catching up on the day and improving your relationship with him.
The Secret by Rhonda Byrne as it educates the reader about a universal paradigm about achieving success. The book tries to unveil this little secret, which may transform how people look at things and lead them on to the road of success and true happiness.
---