A Message for parents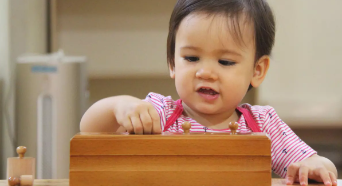 The Toddler Program at Mont Ivy Preschools is an excellent opportunity for a child to have his/her first social experience outside of the home. At this age, the needs of a child focus around self and environment exploration. The child is in the process of gaining better control of his/her gross/fine movements. He/she is mobile and wants to explore everything in his/her reach. The need to communicate using language also increases.
The Toddler environment at Mont Ivy is carefully prepared as per the Montessori principles to fully meet each developmental need of a toddler, in a fun and engaging manner. It is designed to stimulate the mind with age/ability appropriate material, channelize the child's energies through engaging activities and quench the child's thirst for the tactile and sensorial exploration.
The child gets involved in work that he/she finds meaningful, which leads to internal harmony and development of concentration. Seeds of discipline are sowed as the concept of "freedom with limits" is introduced. The child takes his second huge step (first at home) with learning the social skills as he/she interacts with other children/adults.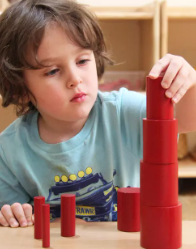 At Mont Ivy, communication skills receive a special focus and it begins right from the toddler program when a child is learning the basic vocabulary. The action-songs, rhymes, dedicated material and other direct communication sets the stage right for a rapid expansion of the child's vocabulary. More often than not, the Toddler child at Mont Ivy develops multi-linguistic abilities as he/she begins to converse in not only English, but also Hindi at school while learning the mother-tongue at home.
Overall, the time spent in the Toddler program at Mont Ivy amply prepares a child for his/her next developmental phase. It serves as the foundation of the Preprimary program that is characterized by learning core skills, substantial cognitive development and further refinement of sensorial faculties.
We welcome your toddler to the safe, caring and nurturing environment of Mont Ivy Preschools. The toddlers get the highest personal attention with one adult for every four toddlers in a small batch of six to eight toddlers. The sessions are held every day for two-hours, keeping in mind establishment of routine and the energy levels/resting-needs of toddlers.
---